I'm baaaack (I really count how many times I've said this on my blog, I'm so sorry)! Sorry for disappearing out of the blue without any notice; summer class pretty much ate all my free time. But just like that, it's finally over! And I'm about to start my 2nd summer, hopefully with a much free-er schedule (I am honestly so exhausted of anything school-related and in dire need of a creative outlet aka my blog). Anyways, in the middle of my busy sem, I had the chance to escape for a bit for a swim! Posting this before the rainy seem comes and it becomes untimely blogging about swimwear! I think is the first time I'm revealing this much skin on my blog but this gorgeous bikini deserves it!
PS. I apologize in advance for the lack of creativity of my poses (someone please teach me how to model swimwear, lol) 
I used this chic top as a coverup! I love the cut and the style of this one, so I'll definitely be wearing it again!
Love these retro oversized sunnies! Officially my favorite ones! Can't wait to show you guys the other pairs I received! 
I personally have a hard time finding the right bikini for my body type but this bikini just fits right! The quality isn't your ordinary and flimsy bikini – it's made of neoprene fabric which is firmer and stretch resistance compared to others and very comfortable!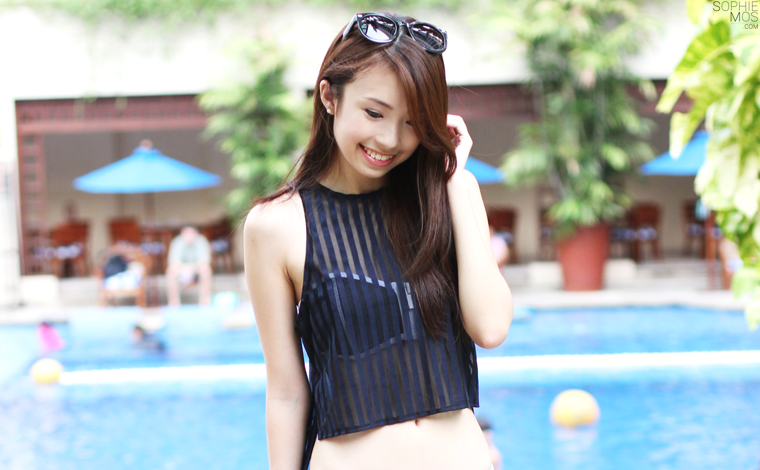 I think the worst thing about it is choosing a pair among their all equally gorgeous and unique styles! I think that aside from the quality, it's their design which makes it so special from other bikinis, that once you see it, you just know it's Triangl. 
I've been getting a lot of inquiries on the size I got, if it helps, I'm a size S. 🙂 You can also consult their 24/7  live chat (so efficient & helpful!) on their page for advice. 
Triangl Swimwear, ZeroUV Sunnies, Etymology Top 
What do you think? Comment are loved! 🙂